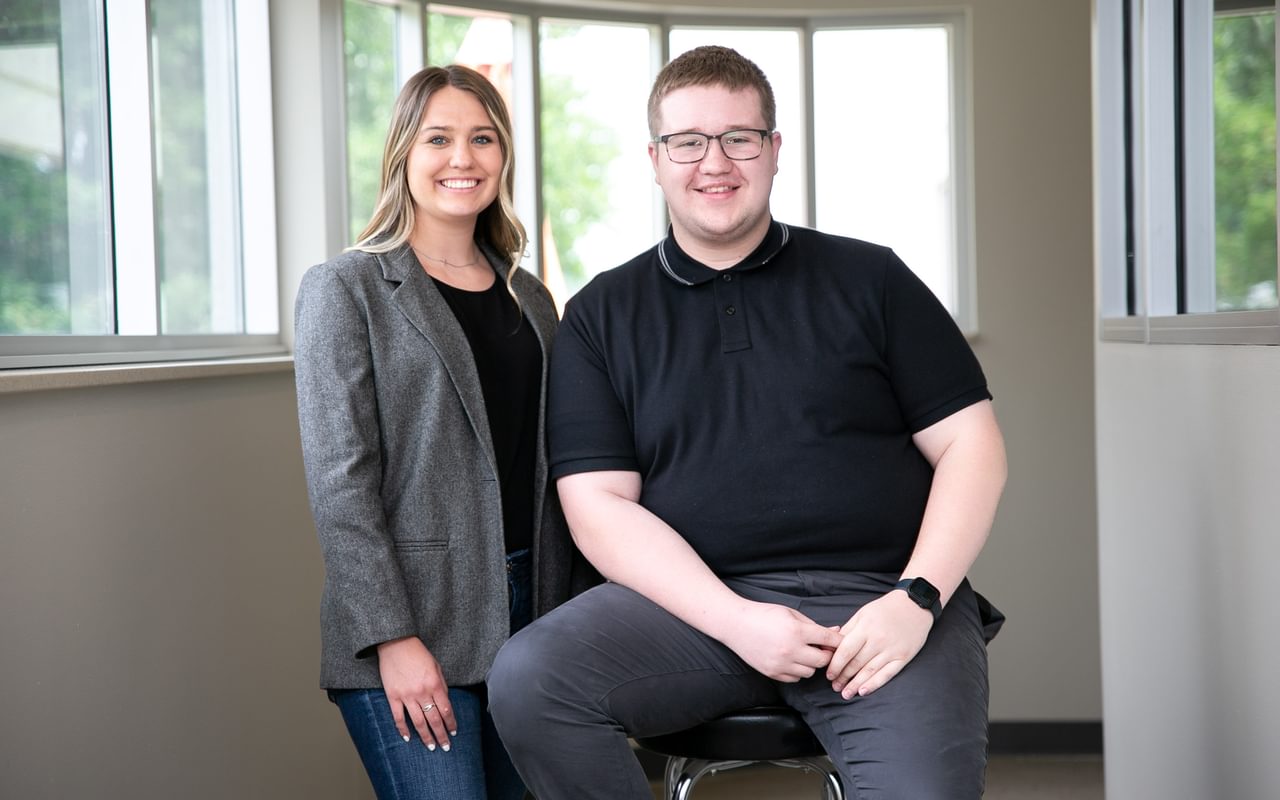 The best season of all seasons is here – intern season! And let's just say our office Jackrabbits are thrilled about who is here for the summer. Joining us from South Dakota State University (and the land of 10,000 lakes) are Jack Derickson and Maddie Haen. Jack is designing on our creative team and Maddie is working with our account service team.

Now, we'll turn the mic over to them.
Where are you from?
Jack: I grew up on a farm just south of Lamberton, MN.
Maddie: I was raised on a farm near Renville, MN.
What is your major and year in college?
J: I'm a graphic design major at SDSU heading into my fourth year.
M: I'll be a senior at SDSU. I'm studying ag business with a minor in marketing.
What do you do in your free time?
J: I enjoy biking, printmaking, ceramics, reading and designing.
M: I like to be outside – helping on the farm, hunting, fishing or going to the lake.
Why Paulsen?
J: I felt my background on the farm connected well with Paulsen's mission.
M: I like that Paulsen is an agricultural-based advertising agency.
What's your first impression now that you're here?
J: There is great camaraderie between everyone at Paulsen, which I think makes their work even more impactful.
M: It's a very fun, positive and motivating work environment! I could tell right away that Paulsen values and cares about its employees and clients.
Name your internship goal.
J: I want to understand the inner workings of a marketing agency.
M: To continue to learn and grow all while building relationships and seeing how an agency works from an account service standpoint.
Go-to music playlist for work?
J: I listen to a lot of different genres. Think Glen Campbell and Wicked to Aaliyah and Shostakovich.
M: It's always country. From the early 2000s country hits to today's top country.
What did you want to be when you grew up?
J: I went back and forth between archaeologist, anchorman and chef.
M: I wanted to be a kindergarten school teacher.
If you had to eat only one food for the rest of your life, what would it be?
J: The California Chicken Flatbread from Mackenzie River.
M: Oof that's hard … probably cheese!
Name an interesting fact about yourself.
J: I was named after the SDSU mascot Jack the Jackrabbit.
M: When I was younger, I had my heart set on taking over my family farm!
What App could you not live without?
J: Instagram – it's my go-to for design inspiration.
M: Text Messages or Instagram.
What is your karaoke song?
J: Satisfied from Hamilton
M: Any Shania Twain song!
And in ode to Thane Paulsen's favorite hobby, what would you name your boat if you had one?
J: Paradocks
M: Floating in Ol' Blue
We're thrilled to have Jack and Maddie here for the 2023 intern season. We'll give an update at the end of the summer, so check back to see what they all did!