Client:
JCB
Industries:
Agriculture
Manufacturing
Services:
Against the backdrop of nationwide employee shortages, JCB needed to recruit qualified applicants to work at its main North American manufacturing plant.

Challenge
Standing Out In A Hot Market
A longtime global leader in construction and agricultural equipment, JCB continues to build its brand and market share here in North America.
And, as it does so, the company's HR leadership highlighted the pressing need to recruit, hire and train more qualified employees to work at its factory located in Pooler, Georgia.
The workforce shifts that took place at the height of the pandemic created a hot jobs market, giving workers additional leverage when searching for new employment opportunities.
This dynamic also puts more pressure on employers like JCB to further differentiate themselves from the competition beyond compensation, including benefits, work-life balance, advancement opportunities and more.
Our client reached out to initiate a recruitment campaign aimed at hiring as many as 50 new employees to be retained for at least one year.

Approach
Make Working Here Part of the Brand Narrative
Earlier in 2021, we helped JCB launch a successful consumer-focused JCB Better campaign which used aspirational language to move the brand forward. Our team recommended this same sort of messaging in order to reach prospective employees.
By building an HR campaign as an extension of the existing brand campaign, JCB would create a cohesive experience for customers and job seekers alike as well as focus on the qualities that truly set JCB apart.
We also helped our client focus on audience. Some of these potential applicants would hail from Pooler and the greater Savannah region, but JCB also identified the reality that broadening the geographic scope of their search in order to fill critical openings might be necessary.
Our media plan included geotargeting in three additional regions—Atlanta, Macon and Dublin—to reach applicants through paid social, search engine marketing (SEM) and programmatic display ads.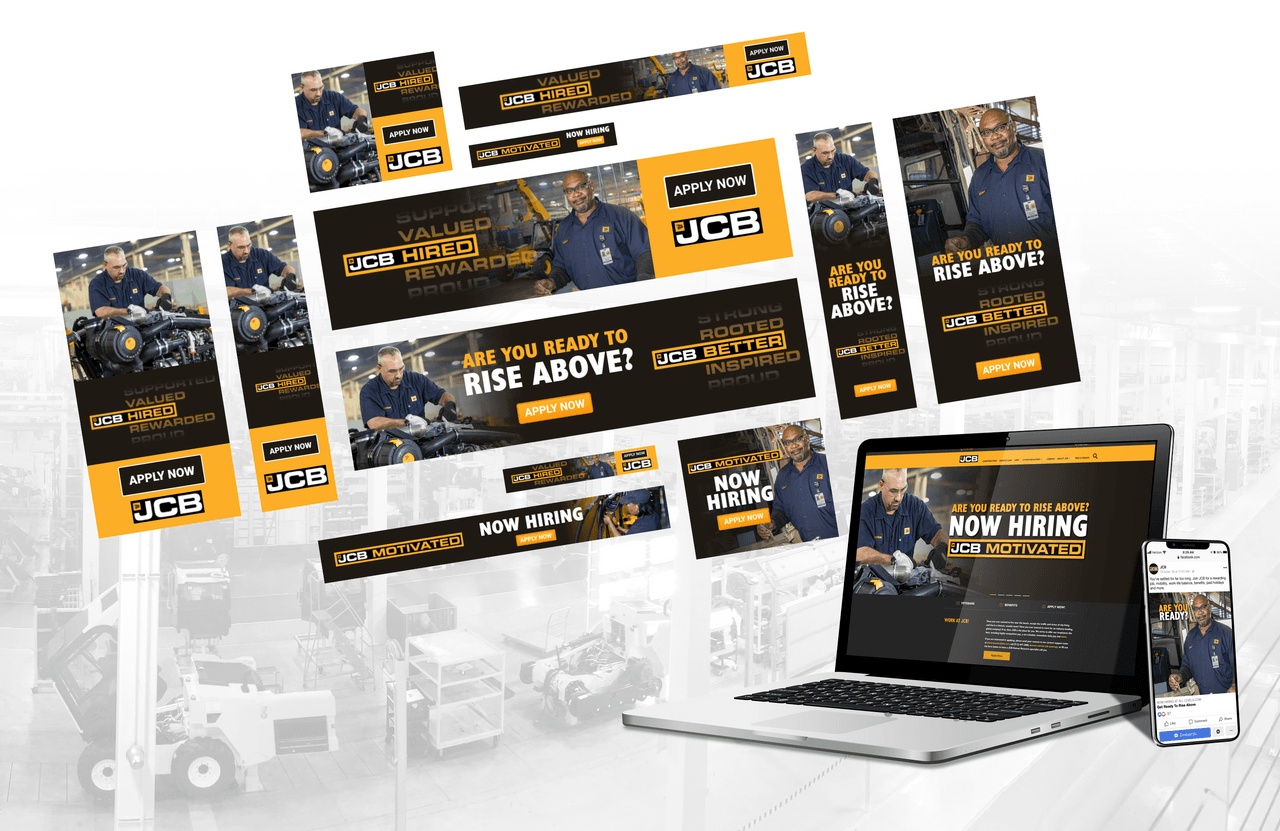 Results
Filling the Applicant Pipeline
The HR recruitment campaign exceeded expectations for the JCB team.
We budgeted $36,000 across local billboards and radio spots, paid social media, SEM and digital programmatic display ads for the first phase of the campaign.
Paid Facebook ads alone reached 65,259 unique users and produced a 2.7% CTR. Meanwhile, paid search through Google generated a 4.8% CTR and a 36% conversion rate. Digital programmatic display ads earned 2,454,851 impressions and a .08% CTR.
These metrics were all well above industry benchmarks.
During phase two of its execution, the overall campaign boosted daily traffic to the JCB Careers landing page by 86.7%.
On a per-channel basis, the campaign garnered a 1.52% click-through rate (CTR) on paid Facebook, 5.38% CTR using Google Ads and a .09% CTR with digital programmatic placements.
Altogether, these efforts netted close to 5,000 form submissions, sufficiently filling the applicant pipeline for our client.